In his third book, Trend Trading Set-Ups, L.A. take the neoclassical concepts presented in his prior book and asks the question. "What are the common characteristics in time, price and volume that provide the highest probability trade set-ups - set-ups that are ready to move now! L.A. continues with his neoclassical approach, provides a rich set of data to support his conclusions and to provide you with the details needed to be a successful investor or trader.
As with his previous book, the acceptance is high and reviews good. Here's a sampling.
"This is my first review on Amazon, so bear with me, but I just had to let people know about this book. That's how powerful it is. It got me to write a review. lol. This book is absolutely awesome. I finally know when to enter and exit a trade. A light bulb went off after reading this book. Seriously. I've been trading, and losing, for 1 1/2 years now, and I know now how clueless I was when it came to making money in the stock market."
and
"Trend Trading Set-Ups is a clear testament to the principle that trading is simple (although not too simple) but not easy. I don't know what a good trader's track record would be following Little's method. I can say, however, that it's a thoughtful, plausible approach to trading. And I don't say that too often."
and finally
"I have traded off and on for many years now and studied about every approach I could get my hands on. Most trading books (I've probably read a 100) are absolutely useless and are written by people who can't trade, but I highly recommend reading first, Trend Qualification and Trading, followed by Trend Trading Set-ups, both by L.A. Little. His approach is scientific and full of logic. He teaches you to read price and volume action and pick your lowest risk points of entry. No indicators or complicated waves that can't predict anything. I love it."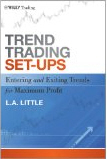 About the Author
L.A. Little earned a Master of Science degree in Telecommunications from the University of Colorado. Prior to that, he earned undergraduate degrees in Computer Science (AAS) and a Bachelor's degree with a double major in Computer Information Systems and Philosophy from the University of Southern Colorado. He has written and presented material at a number of regional, national, and international conferences and is the creator of the Neoclassical Technical Analysis model.