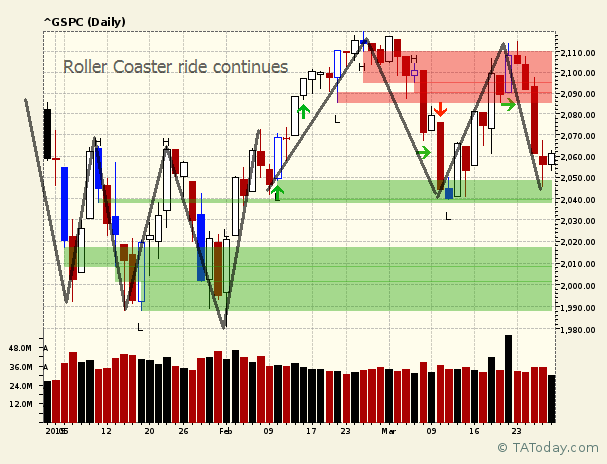 Roller-coaster market sends warning to buy-and-hold crowd
Investor's Beware! That's how you really need to look at this market over the next few months. This is in stark contrast to what one could count on for the past three or so years – to be bailed out pretty much on anything you bought at just about any time. Those days look to be over as was opined here a couple weeks ago.
In that previous article, we looked at the market's character change and its implications. Two weeks later, those thoughts still seem to be right on target as the yo-yo roller coaster market of ups and downs continues unabated as seen here.
What was said in the last article is that if you want to make money this year, it's going to be about trading around your core longer term positions rather than just holding them as they yo-yo up and down. With the TA Today charts, for example, they show you where the buyers should show up and where the sellers should show up as well. If you look at the above chart and consider those buy and sell zones – areas where supply and demand are most likely to exist, then you can formulate a plan on when and where to buy and/or sell.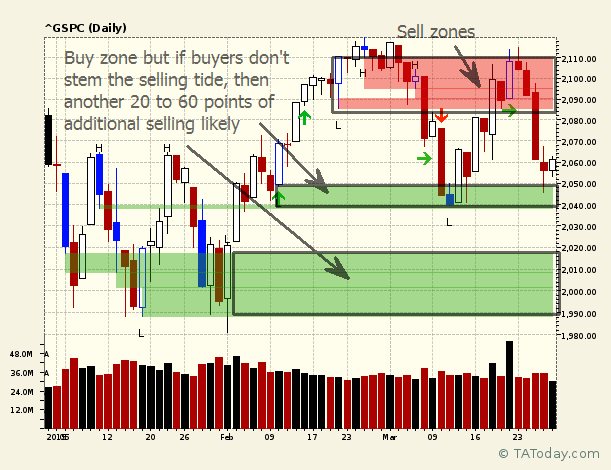 It's really your choice. You can either hope things will somehow work higher despite mounting evidence that this is unlikely to be anything like the last three years or you can change your stripes a bit to synchronize with what the market is offering.
In a soon-to-come article we will consider the other possibility – a big drop. Is that possible? How about probable? That's the big question and we are starting to put enough of a structure together again to speculate on how that would unfold if the market were to exercise that option. In the meantime, for those that refuse to recognize that this no longer a buy and hold market, then they can ride the roller coaster if they wish. Just realize it's "Investor's Beware!" now.
This article was originally printed on MarketWatch on Mar 30, 2015 12:21 p.m. ET
$Gold may be on the cusp of a double from here- see the following 5yr monthly chart.
Market character changed and so must your strategy
When we last conversed, the set-up was clear - either the market would rotate to something besides technology stocks or the market would sell back down. Rotation didn't happen and the market finally took a fall last Friday. Looking back over the past 3 months, we can definitely see a change of character. No longer are the V-Shaped rallies littering the landscape but instead bidirectional moves have become the norm - straight up and straight down. This change of character appears important to take notice of for it says that it is no longer the case that any purchase will eventually be rewarded but that some will actually lose value. It says that to make money you are going to have to be much better at finding higher probability trade set-ups (long and short) and have reasonably good timing for entries and exits.
Bulls are in need of a bounce here- see the following 4-month daily chart.
Bulls need to hold 122.03- see the following 13day 15min chart.