For oh so long, US markets were masters of the universe. They went where they wanted to go independent of all other markets. That's been true for decades now. Other than occasional blip here or there where some world event would upset that relationship for a short period of time, the U.S. was king of the hill. That equation is changing though.
Read more: US Markets no longer masters of their own destiny
Rising risks for stocks means some selling is in order
As a much anticipated earnings season is set to unfold this week, the question before the US equity markets is "Can the world's central bankers overcome the poor earnings and economic backdrop?" Seriously, can anyone really argue that the bulk of the equity appreciation we have seen over the past five years worldwide isn't due to central bank largess? It's not just the Federal Reserve but the all around the world from Britain to Japan, Europe to China. All the major world economies have embraced the something-for-nothing policies and ran with them. Despite this backdrop, the rising tide appears to be near its peak and the time for investors to reduce long only exposure is upon us.
$Gold may be on the cusp of a double from here- see the following 5yr monthly chart.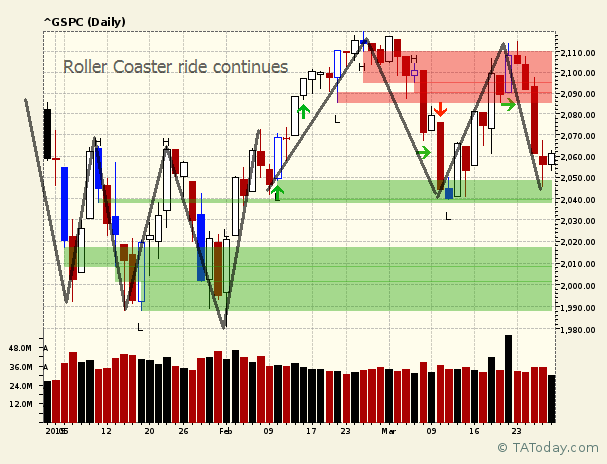 Roller-coaster market sends warning to buy-and-hold crowd
Investor's Beware! That's how you really need to look at this market over the next few months. This is in stark contrast to what one could count on for the past three or so years – to be bailed out pretty much on anything you bought at just about any time. Those days look to be over as was opined here a couple weeks ago.
In that previous article, we looked at the market's character change and its implications. Two weeks later, those thoughts still seem to be right on target as the yo-yo roller coaster market of ups and downs continues unabated as seen here.
What was said in the last article is that if you want to make money this year, it's going to be about trading around your core longer term positions rather than just holding them as they yo-yo up and down. With the TA Today charts, for example, they show you where the buyers should show up and where the sellers should show up as well. If you look at the above chart and consider those buy and sell zones – areas where supply and demand are most likely to exist, then you can formulate a plan on when and where to buy and/or sell.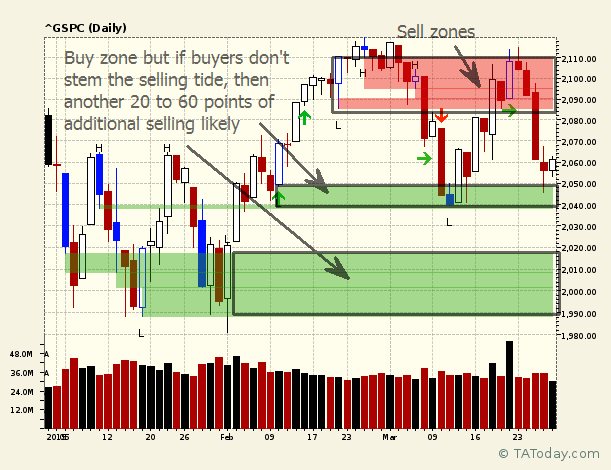 It's really your choice. You can either hope things will somehow work higher despite mounting evidence that this is unlikely to be anything like the last three years or you can change your stripes a bit to synchronize with what the market is offering.
In a soon-to-come article we will consider the other possibility – a big drop. Is that possible? How about probable? That's the big question and we are starting to put enough of a structure together again to speculate on how that would unfold if the market were to exercise that option. In the meantime, for those that refuse to recognize that this no longer a buy and hold market, then they can ride the roller coaster if they wish. Just realize it's "Investor's Beware!" now.
This article was originally printed on MarketWatch on Mar 30, 2015 12:21 p.m. ET
Bulls are in need of a bounce here- see the following 4-month daily chart.