Articles
There is a terrible misconception about how to outperform the markets. Most think that you have to make more money than the market does when it is going higher. That leads many to think that you have to take on additional risk to outperform. The reality is that neither is the case. The key to outperforming is to lose less when the market loses money. Counterintuitive to some degree but true. Let's look at some hypothetical returns assuming that you can limit your losses to the downside while capturing a smaller percentage of the gains to the upside.
The following two charts show two hypothetical returns. This is the process that the Retirement Service follows and, as a result, is positioned properly to outperform the market over the long haul. As an investor, that's exactly what you want - to outperform and to do so while limiting your overall risk. The best of both worlds.

In the first chart, the blue line assumes that you bought and held over all these years assuming:
You invested $1 in the S&P 500 in 1970 and collected dividends and appreciation/depreciation in share prices
The red line assumes that you somehow
Limit your losses to a maximum of -7% in years where losses are worse than -7% and
In years where the market shows returns greater that -7%, your returns are only 93% of the market gains
Take a look at the long term performance of these two approaches.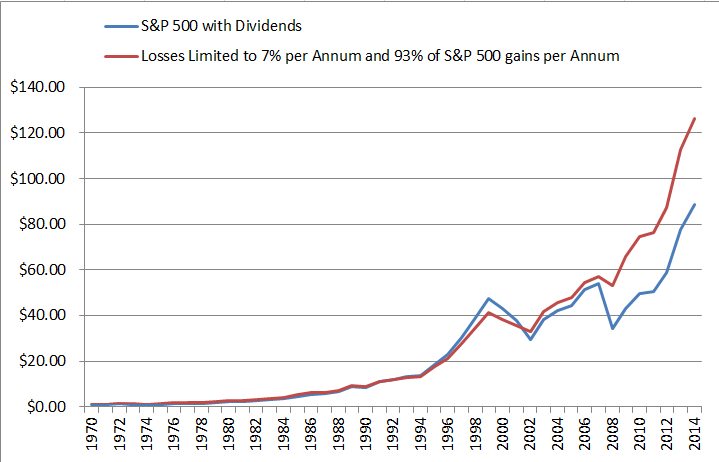 The above chart compares the returns of a buy and hold strategy over the past 45 years versus a strategy where you limit your losses to 7% maximum on bad years (a year where the market is down more than 7%) and where you don't keep up with the market when it returns more than -7% - only gaining 93% of whatever the market returns were. As you can see, an investor who was able to do something along these lines would have far outperformed the market over the long term.
Now assume that you are not good enough to limit your losses to 7% but instead 10% and also assume that your returns in positive years are not nearly as good as the market but only 90% of the market. How would have fared with that scenario? Surprisingly well actually - you would still outperform the market over this same period of time.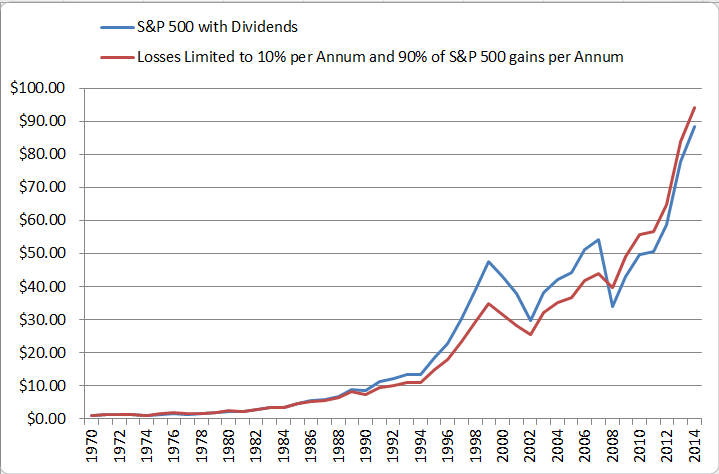 So how can you know when the market is set to give up larger losses and how can you avoid them? The secret is in risk management and neoclassical theory. You can read more here and here. It's not about somehow knowing that large losses will occur but instead knowing that they may.


* Here's the raw data for each of the above scenarios
| | | | | | |
| --- | --- | --- | --- | --- | --- |
| Year | Change in Index | Total Annual Return Including Dividends | Value of $1.00 Invested on 1970‑01‑01 With no Timing | Value of $1.00 Invested on 1970‑01‑01 With Gains 10% Lower than Market and Losses Contained to 7% Per Annum | Value of $1.00 Invested on 1970‑01‑01 With Gains 10% Lower than Market and Losses Contained to 10% Per Annum |
| 1970 | 0.10% | 4.01% | $1.04 | $1.04 | $1.04 |
| 1971 | 10.79% | 14.31% | $1.19 | $1.17 | $1.17 |
| 1972 | 15.63% | 18.98% | $1.41 | $1.37 | $1.37 |
| 1973 | −17.37% | −14.66% | $1.21 | $1.28 | $1.24 |
| 1974 | −29.72% | −26.47% | $0.89 | $1.19 | $1.11 |
| 1975 | 31.55% | 37.20% | $1.22 | $1.59 | $1.49 |
| 1976 | 19.15% | 23.84% | $1.51 | $1.93 | $1.80 |
| 1977 | −11.50% | −7.18% | $1.40 | $1.79 | $1.62 |
| 1978 | 1.06% | 6.56% | $1.49 | $1.90 | $1.72 |
| 1979 | 12.31% | 18.44% | $1.77 | $2.21 | $2.01 |
| 1980 | 25.77% | 32.50% | $2.34 | $2.86 | $2.59 |
| 1981 | −9.73% | −4.92% | $2.23 | $2.66 | $2.33 |
| 1982 | 14.76% | 21.55% | $2.71 | $3.18 | $2.79 |
| 1983 | 17.27% | 22.56% | $3.32 | $3.82 | $3.35 |
| 1984 | 1.40% | 6.27% | $3.52 | $4.04 | $3.54 |
| 1985 | 26.33% | 31.73% | $4.64 | $5.19 | $4.55 |
| 1986 | 14.62% | 18.67% | $5.51 | $6.06 | $5.32 |
| 1987 | 2.03% | 5.25% | $5.80 | $6.35 | $5.57 |
| 1988 | 12.40% | 16.61% | $6.76 | $7.30 | $6.40 |
| 1989 | 27.25% | 31.69% | $8.90 | $9.38 | $8.23 |
| 1990 | −6.56% | −3.10% | $8.63 | $8.72 | $7.40 |
| 1991 | 26.31% | 30.47% | $11.26 | $11.11 | $9.43 |
| 1992 | 4.46% | 7.62% | $12.11 | $11.88 | $10.08 |
| 1993 | 7.06% | 10.08% | $13.33 | $12.95 | $10.99 |
| 1994 | −1.54% | 1.32% | $13.51 | $13.11 | $11.12 |
| 1995 | 34.11% | 37.58% | $18.59 | $17.54 | $14.89 |
| 1996 | 20.26% | 22.96% | $22.86 | $21.16 | $17.96 |
| 1997 | 31.01% | 33.36% | $30.48 | $27.52 | $23.36 |
| 1998 | 26.67% | 28.58% | $39.19 | $34.60 | $29.37 |
| 1999 | 19.53% | 21.04% | $47.44 | $41.15 | $34.93 |
| 2000 | −10.14% | −9.10% | $43.12 | $38.27 | $31.43 |
| 2001 | −13.04% | −11.89% | $37.99 | $35.59 | $28.29 |
| 2002 | −23.37% | −22.10% | $29.60 | $33.10 | $25.46 |
| 2003 | 26.38% | 28.68% | $38.09 | $41.64 | $32.03 |
| 2004 | 8.99% | 10.88% | $42.23 | $45.72 | $35.17 |
| 2005 | 3.00% | 4.91% | $44.30 | $47.74 | $36.72 |
| 2006 | 13.62% | 15.79% | $51.30 | $54.52 | $41.94 |
| 2007 | 3.53% | 5.49% | $54.12 | $57.22 | $44.02 |
| 2008 | −38.49% | −37.00% | $34.09 | $53.21 | $39.61 |
| 2009 | 23.45% | 26.46% | $43.11 | $65.88 | $49.05 |
| 2010 | 12.78% | 15.06% | $49.61 | $74.81 | $55.69 |
| 2011 | 0.00% | 2.11% | $50.65 | $76.23 | $56.75 |
| 2012 | 13.41% | 16.00% | $58.76 | $87.21 | $64.92 |
| 2013 | 29.60% | 32.39% | $77.79 | $112.63 | $83.85 |
| 2014 | 11.39% | 13.69% | $88.43 | $126.51 | $94.18 |
| Year | Change in Index | Total Annual Return Including Dividends | Value of $1.00 Invested on 1970‑01‑01 With no Timing | Value of $1.00 Invested on 1970‑01‑01 With Gains 10% Lower than Market and Losses Contained to 7% Per Annum | Value of $1.00 Invested on 1970‑01‑01 With Gains 10% Lower than Market and Losses Contained to 10% Per Annum |