Written by Administrator
Friday, 01 April 2011 11:04
L.A Little is the author of three books current and each are available to you on Amazon and other online retailers as well as book stores. Just click on the book for a fast trip to Amazon to pick up a copy.
Trend Trading Set-Ups is the latest work in L.A.'s publications taking trading setups to a level not witnessed before. Simple yet comprehensive and data driven. With this book, how you look at trade setups will never be the same again.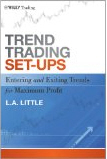 L.A. turned the trading world upside down with the publication of his neoclassical methodlogy showing you how to qualify trends and measure supply and demand through tests at key technical levels. Few authors supply revolutionary ideas and even fewer provide them in tasteful spoonfuls of easily comprehendable form. It's a must read.


L.A's first book centered on money management and the introduction of how to measure success in the trading world. To be consistently successful you have to combine money management with whatever timing approach you use and this book lays that groundwork. It's an old idea presented simplistically yet comprehensively - just as L.A.'s follow on books have all been.
Last Updated on Wednesday, 22 August 2012 14:01