| | | | |
| --- | --- | --- | --- |
| $Compq- 1808 still target, looking for pullback here | | | |
Written by Gary Caumont
Sunday, 26 April 2009 16:02
The market hit 1703 on Friday and closed at 1694. Intermediate term wave 5 up started at 1485 on 03/30. It is composed so far of 3 short term waves as shown on the following chart.
Short term wave 1 start at 1485 to the center of wave 2 at 1592 gives a short term wave 3 target of 1699 which was hit Friday, overshot to 1703 and closed below at 1694.
I'm looking for this short term wave 4 pullback to continue next week to fill a small gap left on 04/08 at 1596 at about the 76.4% Fib retrace of short term wave 3.
Anything that goes below this would be problematic especially if it goes below short term wave 2 start at 1560 which could mean a new "A" wave down from 1703 has started.
On the other hand, Fridays 1694 could be considered an intraday short term wave 4 pullback so a gap up tomorrow or a move above the 1703 high would begin a short term wave 5 up.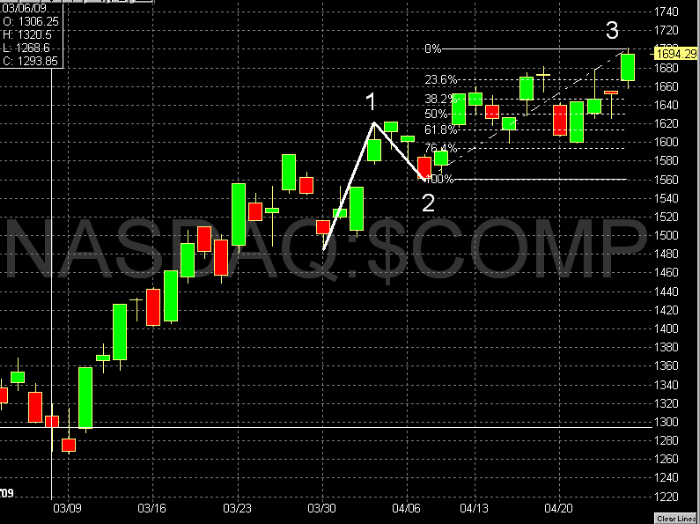 Last Updated on Sunday, 26 April 2009 19:42